Tina Turner was a trailblazer
Today, the world is mourning the loss of one of the most iconic and influential singers of all time, Tina Turner. The legendary artist passed away at the age of 83, leaving behind a legacy that will continue to inspire and captivate audiences for generations to come.
Throughout her career, Turner shattered barriers and broke records, becoming one of the most successful and beloved artists in music history. Her powerful voice, electrifying performances, and fearless attitude set her apart from her peers and made her an inspiration to millions around the world.
Born Anna Mae Bullock in Nutbush, Tennessee, Turner rose to fame as part of the Ike and Tina Turner Revue in the 1960s, where she quickly became known for her explosive stage presence and soulful vocals. As a solo artist, she continued to push boundaries and redefine genres, with hits like "What's Love Got to Do with It," "Private Dancer," and "The Best" cementing her status as a music icon.
But Turner's impact extended far beyond her music. She was a trailblazer for women and people of color in the entertainment industry, overcoming numerous obstacles and challenges throughout her career to become one of the most successful and influential artists of all time. Her resilience, strength, and unwavering spirit served as an inspiration to countless fans around the world.
Today, we remember Tina Turner not only for her incredible talent and contributions to music, but also for her courage, determination, and unwavering passion. Her legacy will continue to inspire and uplift us for generations to come, and she will always be remembered as one of the greatest artists of all time.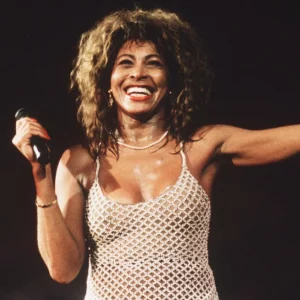 Tina Turner's life and career were marked by both incredible highs and heartbreaking lows. One of the most difficult and traumatic periods of her life was her tumultuous and abusive relationship with her ex-husband and former musical partner, Ike Turner.
For years, Tina endured physical, emotional, and psychological abuse at the hands of Ike, both on and off stage. Despite her talent and success as a performer, she was often overshadowed by Ike's controlling and domineering personality, which left her feeling trapped and powerless.
But in 1976, after years of abuse and turmoil, Tina made the courageous decision to leave Ike and strike out on her own as a solo artist. It was a risky move, as Ike had been instrumental in launching her career and many in the music industry doubted whether Tina could succeed without him.
Yet Tina refused to be held back by her past or her abuser. She worked tirelessly to reinvent herself and establish her own identity as a solo artist, honing her craft and perfecting her stage presence. Her hard work paid off, as she soon began scoring hits like "Let's Stay Together" and "What's Love Got to Do with It," which became her signature song.
But perhaps even more impressive than Tina's musical success was the way she transformed herself as a person. She found the strength to leave behind the trauma and pain of her past and embrace a new chapter in her life, one defined by hope, empowerment, and a fierce determination to succeed.
In the decades that followed, Tina continued to inspire and uplift audiences with her music, her spirit, and her unwavering courage. She became an icon for women and survivors of abuse everywhere, proving that it is possible to overcome even the most daunting challenges and emerge stronger, more resilient, and more powerful than ever before.
Today, as we remember Tina Turner's remarkable life and legacy, we celebrate not only her incredible talent and contributions to music, but also her bravery, her resilience, and her unwavering commitment to living life on her own terms. She will be deeply missed, but her spirit and her music will continue to inspire us for generations to come.