Original song written and performed for motion picture, BARBIE
Official MV directed by Billie Eilish (Watch MV)"What Was I Made For?" [From The Motion Picture "Barbie"] was composed especially for Barbie by Billie Eilish alongside her brother FINNEAS who produced the track at his home-studio in Los Angeles. The intimate and heart-rending track exists as the sonic background for pivotal scenes through-out the film, while beautifully and poignantly highlighting the film's important message and sentiment.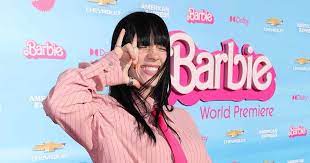 Billie Eilish has contributed a song called "What Was I Made For?" to the soundtrack for Greta Gerwig's upcoming Barbie movie. The song, which was written by Eilish and her brother Finneas and produced in his Los Angeles home, is a departure from the other Barbie singles. It doubles as a commentary on the pop star industry, touching on the idea of artists being "created" for the profit of record labels. In the music video, directed by Eilish herself, she is seen dressed like a young girl with a Barbie-esque ponytail, sorting through her doll-sized wardrobe. As she plays, she is disrupted by natural forces such as wind, rain, and an earthquake, leaving her scrambling to pick up the pieces.
The song speaks to the feeling of ennui and questioning of purpose, with Eilish singing, "What Was I Made For?" and "Think I forgot how to be happy / Somethin' I'm not, but somethin' I can be / Somethin' I wait for / Somethin' I'm made for." Eilish, who was an accomplished dancer before her music career took off, has opened up about being diagnosed with Tourette syndrome and hypermobility. The song has resonated with Glüme Harlow, a former child actress who has struggled with health issues and financial difficulties. Rolling Stone listed Harlow's album as one of the best of 2023 so far, and she has launched a GoFundMe campaign after being inspired by Eilish's song.